Must-see places to visit in Waikato, North Island, New Zealand.
Taupo and Tongariro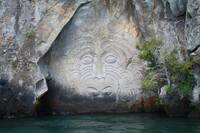 The largest lake in New Zealand, Taupo, is 238 square miles. Some view it as a handy stopover, but others linger to explore the local culture and investigate unique features.
Take a boat or kayak and cruise around secluded coves, perhaps visiting the striking 10m high Maori rock carvings at Mine Bay, which are only accessible by water.
Nearby also are the Huka Falls, where 220,000 litres of water cascade through the narrow gorge and over the waterfall every second. Take a jet boat ride to see the power of the falls up close, or cycle the Great Lake Trail for tremendous views.
Explore the otherworldly Craters of the Moon, an almost lunar landscape of geothermal activity, with bubbling craters, steam vents, and boiling mud pools.

Nature goes full throttle at Tongariro National Park, south of Lake Taupo. It's here you'll find active volcanoes Ruapehu, Tongariro (Mount Doom in 'The Lord of the Rings') and Ngauruhoe.
To the southwest, Whanganui National Park provides rivers, waterfalls and gorges – a backdrop to days spent hiking, fishing, kayaking and horse riding.
Waitomo Caves
Waitomo comes from the Maori words wai (water) and tomo (hole), and under its green hills lies a labyrinth of caves, sinkholes and underground rivers.
Most people choose a walking tour or boat tour in order to see the Caves, but if you're a little more adventurous, you could try the unique experience of Black Water Rafting, where you'll crawl, swim and float through the caves on a rubber tube.
Outside of the caves are good cafes and walks as well as some natural wonders, including the limestone Mangapohue Natural Bridge and the beautiful Marokopa Falls. A walkway beginning near the Waitomo Museum of Caves leads through farmland, where you'll see fascinating rock forms.
For a quirky insight into rural New Zealand life, take in one of the local farm shows, or go exploring on a guided horse trek. If you'd like to visit some of New Zealand's rarest birds, including our national icon, the Kiwi, head to Otorohanga Kiwi House in Otorohanga.
Nearby, the town of Piopio offers guided tours of the Denize Bluffs, a filming location seen on The Hobbit: An Unexpected Journey, and further south, the Pureora forest provides some great short and long hikes suitable for all levels as well as the Timber Trail.