The Run of Fleet category is perfect for the flexible traveller as it is made up of various brands and models between 24ft to 27ft. All motorhomes of this category come equipped with a kitchen area, storage, dinette, and a bathroom with a separated shower even! It can sleep up to four people with the dinette bed and the over-cab bunk, plus rear bed.
Floorplans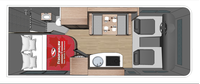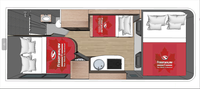 Specifications are based on a Fraserway C-Medium and are intended as a guide, we cannot guarantee exact specifications and layouts. The Run of Fleet category consists of various brands and floor plans.
What's Included
Unlimited mileage
Insurance
Vehicle kit including kitchen and sleeping equipment
Awning
Reversing camera
Air conditioning
Shower and toilet
Fridge
Microwave
Extra Drivers
Vehicle Features
Vehicle make: Ford Chassis
Automatic
Cruise Control
Air-Conditioning
Furnace
Fuel tank capacity: 208L
Fresh water tank: 150L
Black water tank: 90L
Grey water tank: 95L
4 seatbelts
Power supply: Dual Battery
Reversing camera
Fridge/freezer
Microwave (mains power)
Sink
Stove
Gas Oven or Convection Oven
Cutlery & cooking utensils
Crockery and glasses
Pots and pans
Kettle and toaster
Pressurised water
Awning
AUX input
Toilet
Shower
Sleeping for up to 2 Adults and 2 Children
Overcab Bed – 132 x 243 cm / 52" x 96"
Rear Bed – 137 x 188 cm / 54" x 74"
Dinette Bed – 101 x 178 cm / 40" x 70"
Vehicle Dimensions
Exterior Length – 734cm to 823cm / 24'1" to 27"
Exterior Width – 250cm to 324cm / 8'2" to 11'5"
Exterior Height – 335cm to 340cm / 11' to 11'2"
Interior Height – 203cm to 213cm / 6'6" to 7"
Gallery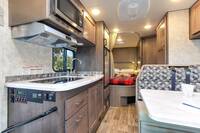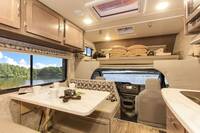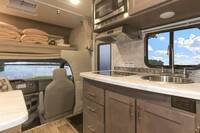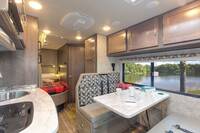 Additional Information
Available for rent at the following stations: Vancouver (Delta), Calgary (Airdrie), Edmonton (Leduc).
Example Images only.
Important: Customers will not know until the day of departure which model within the Run of Fleet category they will receive. Customers who wish to receive one specific floorplan, must book one of the main categories rather than the Run of Fleet category.
Available for the following destination: