New Zealand is simply made for touring. Each morning you wake up with a day of fresh experiences ahead of you, along with the freedom of the open road. And what roads!
Top Tips
Wide, well maintained and easily navigated, the roads are generally excellent, making driving a doddle. But there are a few tips worth noting to help you on your way.
Be aware of your van's height (think barriers, branches, car parks etc).
Reverse with care – it can help to have someone guide you back.
You'll have a familiarisation session at pick up but it's worth noting the wipers, lights – and fuel filler cap – before setting off.
Secure cupboard doors and contents: annoying rattling noises in transit can be prevented by packing tea towels and similar items around the offending items. Prime culprits are the metal baking trays in the oven.
Use GPS to plan timings: distances in New Zealand can take longer to drive due to the winding roads.
Pull over occasionally to allow vehicles behind to pass.
There are a number of single lane bridges, especially in more remote areas like the West Coast. They are signposted so simply note whether you, or the vehicles approaching, have right of way.
A number of rail crossings in more remote parts just have a 'Railway Crossing' sign and 'Give Way/Stop' sign (no barrier or red lights). In these instances you should stop and look carefully before crossing the track.

Rules of The Road
Driving is easy, much like in the UK, but with less traffic. These are the key rules to observe.

Keep left!
Always wear seatbelts.
Stick to speed limits.
Observe alcohol limits before driving.
Don't drive while using a mobile phone.
Stop! Always stop completely at a stop sign – or risk a fine.
Always park on the left side of the road, in the direction of traffic (or risk a fine).
Never overtake if it means crossing a solid yellow line on your side of the centre line.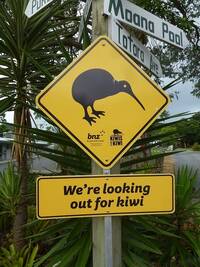 Driving Licence
Take a valid UK driving licence, in English. A foreign licence must be current, full and in English (accredited translation). Alternatively take an International Driving Permit in English.
Speed Limits
On the open road the limit is 100km/h (90km/h for motorhomes over 3500kg). In built up areas, keep below 50km/h, unless otherwise indicated.
Useful Links
AA (Automobile Association) Roadwatch
An invaluable website with masses of useful information.

The New Zealand Road Code
Provides information for driving safely and legally.
Land Transport New Zealand
Provides further driving information and regulations.
Alcohol Advisory of New Zealand
Up to date information on legal limits and wider information.
New Zealand Police
Useful in emergency or for practical advice.
Fuel
Prices of petrol and diesel are generally much cheaper than in the UK but prices can vary.

The New Zealand AA website is a useful resource and has plenty of fuel information.
Tolls
There are not many toll roads and those are in the North Island.
Auckland Northern Gateway (Orewa – Puhoi)
Tauranga Eastern Link (Papamoa – Paengaroa
Tauranga Takitimu Drive (State Highway 29 - State Highway 2).
There are no toll booths and you do not slow down for payment – simply visit www.tollroad.govt.nz to make payment online.