Must-see places to visit in Alberta, Canada.
Calgary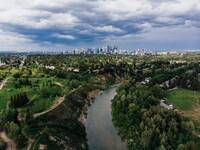 Located in Alberta, Calgary is a city that owes its rapid growth to its status as the centre of Canada's oil industry, it is still however a city steeped in the western culture that earned it the nickname "Cowtown."
Arguably best known for the Calgary Stampede, a massive rodeo that takes place in July each year which grew out of the farming exhibitions that were once presented here.
Main attractions include Calgary Tower, featuring a 1,228m-high observation deck; Glenbow, a museum of art and history; and the Calgary Zoo. The Stephen Avenue pedestrian mall and 17th Avenue offer shops, restaurants, lounges and entertainment.
Hiking and biking are popular in sprawling Fish Creek Provincial Park. Olympic Park, built for the 1988 winter games, is a year-round sports hub with a bobsled run. The Inglewood Bird Sanctuary has trails and wildlife.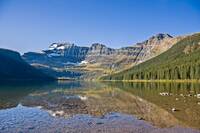 Waterton Lakes National Park
Waterton Lakes National Park is located in southern Alberta and borders the Glacier National Park in Montana. It is best known for its chain of lakes, including the large Upper and Middle Waterton lakes which are flanked by the Rocky Mountains.
The Red Rock Parkway crosses the prairie to the small Red Rock Canyon. You will be able to see bison graze near the Bison Paddock Loop Road and in Waterton village there is a pathway that leads to Cameron Falls.
Jasper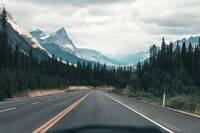 Jasper is the commercial centre of Jasper National Park and is set amongst the snow-capped Canadian Rockies. Make sure you take a ride on the Jasper SkyTram which climbs to the summit of Whistlers Mountain for magnificent views of downtown Jasper and beyond. The Jasper Yellowhead Museum and Archives presents exhibits on the fur trade, railway and early exploration of the park.
Jasper's Patricia Street is lined in shops and cafes. Flowing through town, the Athabasca River is known for white-water rafting and the nearby lakes of Annette, Mildred and Pyramid, offer boating, kayaking and ice-skating. The famous Icefields Parkway scenic route begins at Jasper's white Mystery Rock and goes southeast to Banff National Park.
Banff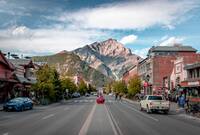 Banff is arguably the best known resort town in the Rockies and is located within Banff National Park and where the peaks of Mt. Rundle and Mt. Cascade dominate its skyline.
The main thoroughfare is Banff Avenue where boutiques and restaurants mix with château-style hotels and souvenir shops. The surrounding 6,500 square kilometres of Banff National Park are home to wildlife including elk and grizzly bears.
Popular warm-weather activities are hiking and biking, as well as white-water rafting on the Bow River and boating on Lake Minnewanka.
Year-round, visitors can soak in the geothermally heated Banff Upper Hot Springs and ride the Banff Gondola up 2,451m-high Sulphur Mountain.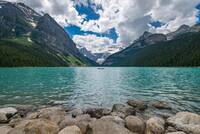 Lake Louise
The one thing that everyone can experience in Lake Louise is the magnificent scenery as it's located in the heart of the stunning and historic Banff National Park, whichever way you look you will see breath-taking views and snow-capped mountains as far as the eye can see.
The town of Lake Louise itself is a picture-postcard perfect Rocky Mountain town and has a small selection of shops, restaurants, and bars to discover and from where you can enjoy the peacefulness of the town.
Kananaskis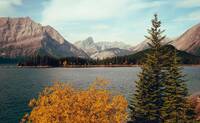 Kananaskis is situated to the west and south west of Calgary and borders Banff National Park, it includes five provincial parks, four wildland provincial parks, one ecological reserve and several provincial recreation areas. Kananaskis Country with its pristine views, alpine meadows with bountiful wildflowers and abundant wildlife is a hiker's dream destination where you could spend all your summer exploring and still would not have covered it all.
Cochrane
Cochrane is a town located 18 km west of the Calgary city limits. It has a population of around 27,000 and is the second largest town in Alberta.