Must-see places to visit in Western Australia.
Albany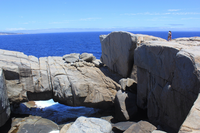 Prepare to be blown away by Albany's dramatic convict history, set against a backdrop of rugged granite coastline, green seas and wild beauty that tugs at the heartstrings. Situated on the southern coast of Western Australia, Albany is a five-hour drive from Perth. Step back in time and explore convict jails, old taverns, whaling ships, settlers' cottages, and grand National Trust homes in beautifully landscaped grounds. Discovered by Captain Vancouver in 1791 and settled in 1826, around 50 colonial buildings have survived and are now housing museums, art and craft galleries and restaurants. The best way to take it all in is to follow the Amity Trail, a 30-minute self-guided walk that takes you past historical buildings of note. Tour the old whaling station, jump aboard a whaling boat and don't miss the Brig Amity and a replica of the ship that brought Albany its first settler and convict cargo.
Albany is known for its natural attractions along the rugged coastline of Torndirrup National Park. Get some salty sea air and fantastic photos at the Gap, boasting a dramatic 24-metre ocean drop. Nearby Natural Bridge is a mind-boggling granite formation in the shape of a bridge. Take a drive past quirky granite Dog Rock, Albany's towering wind farm, and walk the Middleton Beach boardwalk trail and a three-kilometre trail with sensational views of King George Sound.
The whaling industry shut up shop in 1978 and whale watching has taken its place. Watch from the shore or take a whale-watching cruise to see magnificent Southern Right and Humpback whales close up. Albany also offers top-notch fishing, sailing and hiking. Divers should make a bee-line for HMAS Swan, a prepared wreck which rests on the ocean floor offshore.
Cooinda
Cooinda Lodge in the Kakadu National Park is your gateway to the UNESCO World Heritage Site in the Northern Territory of Australia. It is owned by the local indigenous community, and the lodge offers easy access to the Yellow Water cruises, the Warradjan Cultural Centre, Jim Jim Falls, Twin Falls, Nourlangie and many bushwalks. After a day of exploring you can relax by one of the resort-style pools, enjoy al fresco dining at Barra Bistro and Bar or relax in the privacy of your own motorhome.

Esperance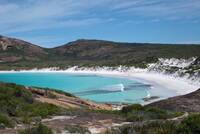 For squeaky-white beaches, getting off the beaten track and bunking down under the stars, head south to Esperance. This place is so relaxed even the kangaroos sunbathe on the beach.

Situated a one and a half hour flight or a nine-hour drive from Perth, it's the ideal location for beach lovers. The town is nestled on the shores of Esperance Bay with hundreds of islands dotting the coast making up the Recherche Archipelago.

The authentic way to see Esperance is by four-wheel drive. Four National Parks take you up close to pristine nature with beautiful seasonal wildflowers, granite headlands, rugged coastal scenery and views over the islands of the Recherche Archipelago. One of the best spots there is Lucky Bay, which is great for camping, fishing, and bushwalking. The campsite has solar hot showers, camp kitchens, barbecues, and plenty of bush walks with excellent coastal views.

Esperance has heaps to do including four-wheel drive safaris, coach tours, helicopter tours, island cruises, diving charters, fishing, abseiling, skateboarding, sand boarding, canoeing, mini golf and a steam train. Check out the museum, arts centre, art galleries and boutique aquarium with a touch pool for kids. Esperance is an ideal swimming spot, while West Beach, Fourth Beach and Observatory Beach boast some of the best surfing.

Locals say the lagoon to the east of West Beach is good if snorkelling appeals, as is idyllic-sounding Blue Haven Beach and Twilight Cove. If you want to have a go at fishing, throw in a line at Tanker Jetty. Watch out for cheeky local Sammy the seal!
Fremantle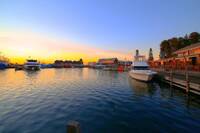 A short distance from Perth city is Fremantle where you will find some of the best seafood restaurants, stunningly different Australian fashions, the latest in indigenous art, a pioneering history waiting to be retold, and an array of street performers and weekend markets not to be missed. Or visit one of Perth's popular beaches. Favourites such as Cottesloe Beach and Scarborough Beach boast bustling cafés and children's playgrounds while City Beach and Floreat Beach are perfect for body boarding and fishing.

Kalgoorlie
Get ready for a heady trip to Kalgoorlie, WA's largest goldfields town famed for its fascinating gold rush history, fabulous old buildings and old gold miners' ghost towns. 'Kal' was born amid the 1880s gold rush when thousands of starry-eyed prospectors made the 700km journey east of Perth seeking their fortunes. Vibrant Hannan Street (named after Irishman Paddy Hannan who struck gold in 1893) is lined with pubs, nightclubs, cafes and restaurants. There's the Hannan railway station and the Hannan hotel where you can drink a pint of Hannan lager.
Kalgoorlie is still an active mining town and the three-and-a-half kilometre long, one-and-a-half kilometre wide Super Pit Mine and where 800,000 ounces of gold is produced each year is mind-blowing. This massive hole is as deep as Uluru and is high with about the same circumference. Both Kalgoorlie and Boulder are packed with grand old buildings (visit the magnificent Boulder Town Hall), lively pubs and colourful characters still living the prospecting dream. Step back in time to the Australian Prospectors and Miners Hall of Fame and a historic precinct with the prospector's campsite and heritage buildings.
In the red dusty outback near Leonora is the fascinating ghost town of Gwalia. Check out the Flying Doctor's Visitor Centre and galleries featuring Aboriginal and Goldfield's art for a memorable souvenir. If, after all the sightseeing you need to cool off, stop for a quick dip in Western Australia's largest indoor pool in Johnson Street.
Accommodation-wise, there are caravan parks, campsites and hostels if you're on a budget; or hotels and motels. Kal rocks with festivities in September, when crowds flock to watch the famous horse race, The Boulder to Kalgoorlie Cup. And with a pub on just about every street corner, there's no avoiding a good night out!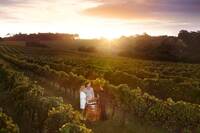 Margaret River
The South West corner of Western Australia combines dramatic rugged coastline and unspoilt beaches with rolling hills and ancient forests. If it's fine cuisine you seek, this region boasts impressive wine estates ready to take you on a food and wine journey you won't forget.

The Margaret River region is a superb blend of good living and stunning nature just a few hours' drive south from Perth. With over 60 cellar doors in the region, visitors should be prepared for decadent dining and the finest premium wines. Discover the innovative menu at Flutes Restaurant, or relax with a long lunch overlooking the oldest vines in the region at Vasse Felix.

Venture south to Pemberton and visit the Gloucester Tree lookout, an impressive 60 metres high, this giant Karri tree has amazing views of the forest canopy. For more inspiring views don't miss the Valley of the Giants Tree Top Walk at Walpole. See the magnificent whales between June and October at the port city of Albany. Immerse yourself in this laid-back and self-indulgent region, and you may never want to leave.

Perth
Perth is a vibrant city overlooking the Swan River - the weather is fantastic, the beaches uncrowded and the dining options plentiful and varied. Shop in the trendy boutiques or browse the art galleries in upmarket King Street, stroll through Kings Park Botanical Gardens or take a tree top walk for a unique view of the city. A free bus circling the city centre makes it easy to visit the CBD attractions.

With an array of water sports on the Swan River, more than 50 kilometres of riverside pathways ideal for walking and cycling, several inner city parks and beautiful beaches only minutes away it's easy to see why Perth's relaxed, outdoor lifestyle is addictive to all who visit.
Just offshore from Perth is Rottnest Island. A great place to get away for a few days and relax or enjoy one of the many activities like surfing, snorkelling or fishing. Hire a bicycle to explore the island and spot a quokka, the cute native marsupials that call Rottnest Island home.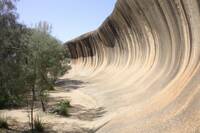 Wave Rock
One of Australia's biggest waves is also the furthest from any ocean! Wave Rock rises 15 metres above the outback plain and was over 2,700 million years in the making, but today it's a popular tourist destination.
Located near the Wheatbelt town of Hyden, getting there from Perth is a pleasant 340-kilometre drive (approximately three to four hours) through picturesque rolling farmlands to wide vistas of wheat and canola fields.

This 110-metre long multi-coloured granite cliff is shaped remarkably like a huge wave about to crash onto the bush. Pose on the rock face and surf the giant wave or see it from a different perspective by following the walk trails around the base and over the top.