Visas
You will need a visa to enter Mozambique. If you're a tourist or travelling for work purposes from a country where there is a Mozambican diplomatic mission, you must get the appropriate visa before travelling.

In summer 2017, Mozambique introduced the possibility for tourists to buy visas at border posts. However, border visas should be considered an exception, not standard practice; they're intended for visitors originating in countries where there is no Mozambican diplomatic mission to issue visas. If you're travelling from a country where there is Mozambican diplomatic or consular representation (such as the UK), you should continue to apply for a visa before travelling. If you intend to ask for a border visa on arrival, you should be ready to explain clearly why you didn't get a visa before travelling.
You must present on entry a return air ticket (for air travellers) and either an invitation from family / friends or a confirmed hotel reservation.
You can apply for a visa at the High Commission of the Republic of Mozambique, 21 Fitzroy Square, London W1T 6EL, telephone: + 44 (0)20 7383 3800. Please visit www.gov.uk for further information.
Passport Validity
Your passport should be valid for a minimum period of 6 months from the date your visa for Mozambique was issued and have at least three blank pages.
Yellow Fever Certificate Requirements
Check whether you need a yellow fever certificate by visiting the National Travel Health Network and Centre's TravelHealthPro website.

Currency
The currency of Mozambique is the Mozambique Metical (MZN; symbol MT) = 100 centavos. Notes are in denominations of MT1,000, 500, 200, 100, 50 and 20. Coins are in denominations of MT10, 5, 2 and 1 and 50, 20, 10, 5 and 1 centavos.
The new Metical replaced the old Metical (MZM) on 1 July 2006. 1 MZN = 1,000 MZM. The old notes ceased being legal tender on 31 December 2006.
The import and export of local currency is prohibited. The import of foreign currency is unlimited, subject to declaration. The export of foreign currency is limited to the amount declared on arrival.
Banking
Banking hours: Monday-Friday (07:30-15:30)
Credit cards are increasingly accepted in Maputo, but not generally beyond the capital.
Travellers' cheques are not commonly accepted, and where accepted are slow to process and often attract high rates of commission.

Border Crossing
There is currently a ban on taking meat and milk into Mozambique from South Africa due to a foot and mouth outbreak.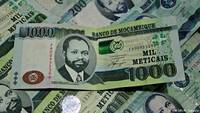 Travel, Transport and Getting Around

Public transport is not recommended within Mozambique, however there are reliable bus shuttles to the north and international/local planes.
There are scheduled flights into Maputo and Vilanculos. Flights are generally routed via Johannesburg in South Africa. There are a variety of smaller airstrips for smaller charter flights (to the islands, etc).
Driving is on the left in Mozambique. You need to make sure that you are carrying ID, your driver's licence, the car registration papers and your insurance details. It is also obligatory to carry a warning triangle and we would also recommend a high viz vest. The wearing of seat belts is compulsory.
The roads are generally not in good repair. Many of the main roads have an awful lot of potholes and some are very deep.

Food, Drink & Cuisine
Mozambique offers some of the best cuisine in Africa, providing a popular blend of Portuguese, Indian and African influences. The country is well known for its seafood, which includes excellent prawns and crayfish, and the wildly popular grilled catch of the day, locally known as peixe grelhade. Local dishes, mainly along the coastal areas have a certain flair which makes them unique from the foods found in neighbouring countries. Mozambicans believe in the liberal use of coconut milk and their favourite local hot pepper, peri peri to add a zesty burn to their meals. For more carnivorous visitors, there is a decent variety of high quality meats, usually, bought into Mozambique from neighbouring South Africa.
In Mozambique, all towns treat their drinking water, travellers are however advised to boil the tap water before drinking it, alternatively would be to buy mineral water. Tap water can safely be used for showering and brushing your teeth.

Climate & Weather
The Mozambique coastline stretches for almost 2,000km, covering latitudes from about 11° to 27° South, and has a tropical ocean current running north to south along its length for the whole year.
Despite this range of latitudes, the whole country broadly follows a southern African weather pattern, with the rains falling largely between December and March.
This does vary a little between the north and south of the country, with the rains lasting a few weeks longer in the north than the south, but the pattern is the same. Humidity can be uncomfortably high during this period.
Most of Mozambique's rain arrives on moist southeast trade winds, but glance at a map to see that it lies in the rain shadow of Madagascar. This gives Mozambique a relatively low annual rainfall – and a great deal of protection from the tropical storms and the occasional cyclone which head towards it during this period.
By around April or May the rains subside, the sun comes out and the humidity drops – better weather spreads gradually from the south to the north.
June to October is the dry season, with often perfect tropical weather: clear skies, plenty of sun and almost no rain. This is the best time for most people to visit Mozambique. Although still tropical, June, July and August are Mozambique's coolest months; you'll need a light duvet at night, even though the temperature reaches over 30°C by day. During September and October, it remains dry as daytime temperatures climb, though it cools down a lot at night.
November is a less predictable month of transition. Sometimes the rains start, although many days remain sunny and hot. The rains generally start earlier in the north of the country.

Clothing & Dress Recommendations

Light clothing is a must for most of the year (do not forget your swim wear and sunscreen!). However, during winter (June-August) it can be chilly in the evenings, so pack something warm. When visiting game reserves, remember to pack sensible walking shoes, a hat and colour appropriate clothing (browns, greens, etc). In the evenings, it is advisable to wear long sleeved shirts to protect from the mosquitoes.

Electricity & Plug Standards
Electrical sockets in Mozambique are one of two electrical socket types: Type C (CEE 7/16 Europlug) and Type M (SABS-1661). If your appliance's plug doesn't match the shape of these sockets, you will need a travel plug adapter in order to plug in. Travel plug adapters simply change the shape of your appliance's plug to match whatever type of socket you need to plug into. If it's crucial to be able to plug in no matter what, bring an adapter for all types.
Electrical sockets in Mozambique usually supply electricity at 230 volts AC / 50 Hz frequency. If you're plugging in an appliance that was built for 230 volt electrical input, or an appliance that is compatible with multiple voltages, then an adapter is all you need. If your appliance isn't compatible with 230 volts, a voltage converter will be necessary.