Our fantastic "intrepid explorer" Is the ultimate in luxurious bush camping with the added benefit of getting to those less accessible and remote areas in style.
2 Berth Ford Ranger 4x4 Camper Layout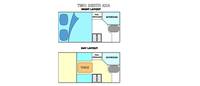 Manual transmission
2.2 L Turbo Diesel inter-cooled Engine
Long Range Fuel Tank – 140 litres
2 Full Size Spare Wheels
Total Number of Seatbelts – 2
Maximum Occupants in total – 2
Air conditioning in vehicle
80 Litre Fresh Water Tank
80 Litre built in Fridge with Freezer compartment
Cassette Toilet
Hand Basin in Bathroom
Hot Water Shower
3 kg Gas Bottle
Kitchen Utensils
Camping table and chairs
Cutlery and crockery
Bedding pillows and towels
BED DIMENSIONS
Main bed pulls out to a staggering 2250 mm x 1900 mm
PLEASE NOTE
These 4x4 campers are Overland vehicles, best suited for nature lovers or enjoying game viewing in the comfort of a campervan. The vehicles are larger than standard 4x4 vehicles due to the campervan body, and thus are best suited for mild 4x4 driving on nature or game viewing roads. Due to the size of the campervan body they are not suitable and are not permitted to be used on any sand dune driving, heavy articulated 4x4 driving, 4x4 specific courses and or graded 4x4 tracks.
Gallery