Designed to accommodate 2 adults and a child, the Venturer Plus offers additional sleeping options including a single bed at the front, with the preference for 2 singles or a spacious double at the rear. The extra bed does not impact on space with kitchen and bathroom facilities still included.
Floorplans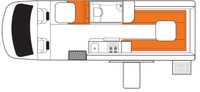 Floor plans and specifications are intended as a guide, we cannot guarantee exact specifications and layouts.
What's Included
Excess Reduction Liability reduced to zero
Road User Charge Recovery fee (applies to diesel vehicles)
Pre-purchase gas (LPG)
Picnic table and chairs (chairs per person travelling)
Snow chains (if required)
Portable heater (if required)
1 x child or booster seat (if required)
Pillow, pillowcase, duvet, sheet and towel per person
Navigation – get you from A to B and everywhere in between
Suggest activities and experiences near you that you can book directly off the tablet
Safe Driving videos
Operational 'How to' & troubleshooting videos
Enable a WIFI Hotspot
Locate useful things like campgrounds, dump stations, petrol stations, LPG refill points via the Campermate app
Vehicle Features
Vehicle Make: Mercedes Benz or Volkswagon
Automatic
Power Steering
Mains power: 12V / 240V
Air-con: Drivers Cab
Heating: Drivers Cab + Main Cab
Internal Access
Fuel Capacity: 75L
Fresh water tank: 120L
Waste water tank: 120L
2 seatbelts in the driver's cab
1 seatbelt in the main cab
Mains power 240v/12v
Fridge/Freezer
Microwave
Sink
3 burner gas stove
Built in slide-out BBQ outside
Cutlery & Cooking Utensils
Crockery
Pots and pans
Pressurised Water
Radio and CD Player
AUX input
DVD player with flat screen
Toilet
Shower
Fire Extinguisher
First Aid kit (to be purchased if opened)
Optional Express Return Pack
Return your motorhome with an empty fuel tank and gas bottle
Toilet and waste water emptying service on your return
Express key return
Express Return Pack included on the Ultimate New Zealand and New Zealand Discovery Escorted Tours.
Sleeping For Up To 2 Adults & 1 Child
Rear - Double Bed 1.91m x 1.78m or 2 Single Beds 1.91m x 0.60m
Front - Single 1.75m x 0.66m
Vehicle Dimensions
Length – 7.00m
Width - 2.04m
Height – 2.80m
Interior Height – 1.90m
Gallery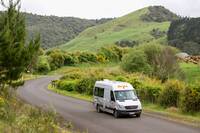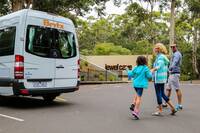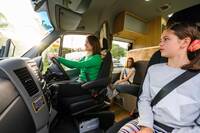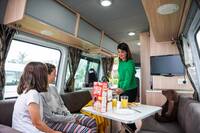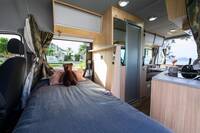 Available for the following destinations: