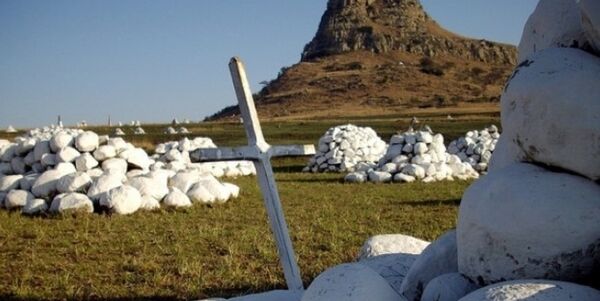 KwaZulu Natal, also known as KZN, is steeped in history and littered with battlefields from the struggles of the Zulu Civil Wars, to their clashes with the Boers and the British. This picturesque area features sweeping views of rolling hills scattered with rugged rock formations. The most well-known and well-visited sites are those of the legendary Battles of Isandlwana and Rorke's Drift took place on the same day, lodging the Zulus firmly at the top of great warrior nations. Visitors can also explore the famous Anglo-Boer War fields of Spioenkop, Colenso and the Siege of Ladysmith, which drew characters like Winston Churchill, Louis Botha and Mahatma Gandhi onto the same stage.
Battle of Isandlwana (1879)
Isandlwana is the battle that made the Zulus into arguably the most famous tribe in Africa. Armed with spears and hide shields they managed to take the British camp at Isandlwana almost wiping out the entire British force. Today this is an extremely evocative place to visit and as the wind moves through the grass it is easy for your mind to imagine thousands of Zulus doing likewise.
Battle of Rorke's Drift (1879)
Made famous by the 1960s film Zulu the Battle of Rorke's Drift is a remarkable story of how 138 British Soldiers managed to hold off thousands of Zulu warriors through the night and in the process win themselves 11 Victoria Crosses – more than in any other single battle. The well preserved mission station which is now a museum is well worth the visit.