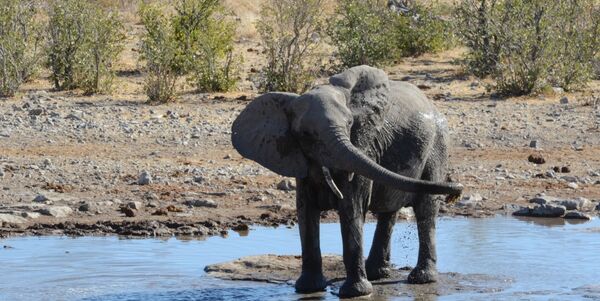 Bordering Botswana, the small Mahango Game Park provides a convenient stopover between Rundu and Katima Mulilo. It forms part of the beautiful Bwabwata National Park. The park's landscape is characterised by woodlands, vast floodplains of the Okavango River basin known as omurambas and the Kavango River. It is home to a reported 99 species of including a large number of elephants, lion, leopard and a variety of antelopes including the red lechwe, sable and roan.
This park is an excellent destination for avid bird watchers boasting over 400 species and provides the perfect spot for visitors to catch a glimpse of crocodile and hippo in the Kavango River. Other popular activities include night game drives, wildlife safaris, and watching the African sunset over the floodplains.
Stretching over 6200 square kilometres in northeast Namibia, the Bwabwata National Park includes the Caprivi Game Park and the Mahango Game Reserve which extends along the narrow Caprivi strip. The park functions as a wildlife sanctuary and practices community-engaged conservation. Dubbed the 'People's Park', the local Caprivian people live in harmony with the land and the animals. With an ever-growing wildlife population, the park is home to many animals including, elephant, leopard, lion, buffalo, wildebeest, crocodile, as well as red lechwe.
Avid birdwatchers will be thrilled to find over 330 bird species in the area. Visitors can look forward to excellent game viewing, boat safaris, nature walks and camping under the Namibian night sky.