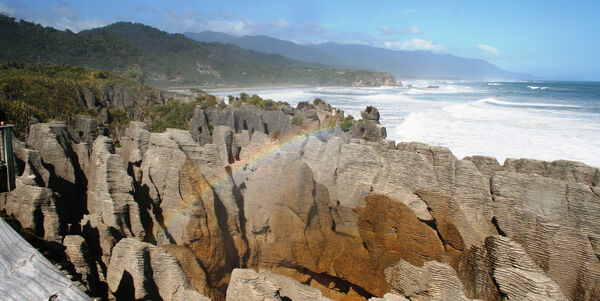 The wild and rugged west coast is truly special with a bizarre combination of glaciers, temperate rain forest and beach. The dramatic glaciers at Franz Josef and Fox are simply mind blowing, still vast but slowly retreating, and you can opt for a helicopter visit that deposits you on the glacier itself for a while.
Nearby the stunning Lake Matheson is famed for its shimmering reflections of the Southern Alps. The walk through the rain forest trail is wonderful. The coffee in the pleasant café afterwards is (almost) better still.
Take it easy in the Glacier Hot Pools, set among lush rain forest of Fox, and visit the West Coast Wildlife Centre, home to New Zealand's rarest kiwi – the Rowi and Haast Tokoeka.

Further north lie old gold mining and jade hunting towns, such as at Greymouth. You can visit the replica gold mining town of Shantytown and enjoy fine beer at the town's local brewery Monteith's Brewing Company, one of New Zealand's oldest breweries. Shop for jade at historic Hokitika and hear tales of ship wrecks, gold miners and pounamu hunters.

A stop off at Punakaiki is a must: it's a geological one-off, where the pounding surf and blowholes have buffeted the strange rock formations of Pancake Rocks for 30 million years.