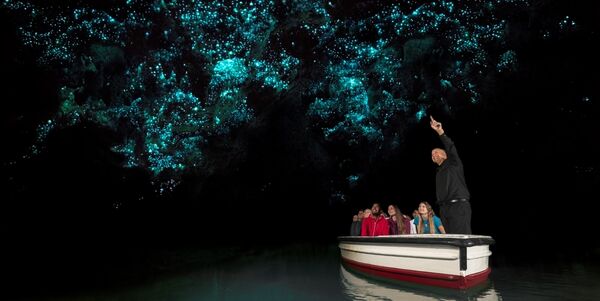 Waitomo comes from the Maori words wai (water) and tomo (hole) and under its green hills lies a labyrinth of caves, sinkholes and underground rivers.
Most people choose a walking tour or boat tour in order to see the Caves but if you're a little more adventurous you could try the unique experience of Black Water Rafting where you'll crawl, swim and float through the caves on a rubber tube.
Outside of the caves are good cafes and walks as well as some natural wonders including the limestone Mangapohue Natural bridge and the beautiful Marokopa Falls and. A walkway beginning near the Waitomo Museum of Caves leads through farmland where you'll see fascinating rock forms.
For a quirky insight into rural New Zealand life, take in one of the local farm shows, or go exploring on a guided horse trek. If you'd like to visit some New Zealand's rarest birds, including our national icon, the kiwi, head to Otorohanga Kiwi House in Otorohanga.
Nearby, the town of Piopio offers guided tours of the Denize Bluffs, a filming location seen on The Hobbit: An Unexpected Journey, and further south the Pureora forest provides some great short and long hikes suitable for all levels as well as the Timber Trail.