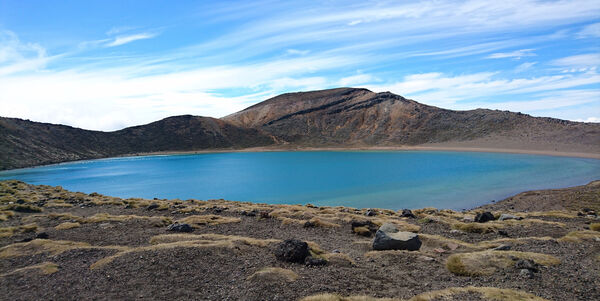 The largest lake in New Zealand, Taupo is 238 square miles. Some view it as a handy stopover but others linger to explore the local culture and investigate unique features. Take a boat or kayak and cruise around secluded coves, perhaps visiting the striking 10m high Maori rock carvings at Mine Bay, which are only accessible by water.
Nearby also are the Huka Falls where 220,000 litres of water cascade through the narrow gorge and over the waterfall every second. Take a jet boat ride to see the power of the falls up close, or cycle the Great Lake Trail for tremendous views.
Explore the other worldly Craters of the Moon, an almost lunar landscape of geothermal activity, with bubbling craters, steam vents, boiling mud pools.

Nature goes full throttle at Tongariro National Park, south of Lake Taupo. It's here you'll find active volcanoes Ruapehu, Tongariro (Mount Doom in 'The Lord of the Rings') and Ngauruhoe.
To the south west Whanganui National Park provides rivers, waterfalls and gorges – a backdrop to days spent hiking, fishing, kayaking and horse riding.