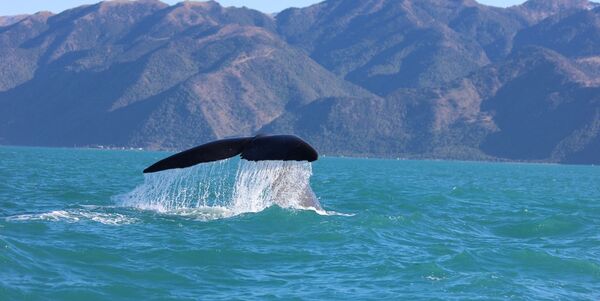 The picturesque coastal town of Kaikoura is the perfect place for marine life encounters, coastal walks, and tucking into a plate of crayfish. Kaikoura is a base for wildlife experiences of all kinds – it's also a great place to eat crayfish (in the Maori language 'kai' means food, 'koura' means crayfish). An easy two-hour drive north of Christchurch, Kaikoura makes for a great day trip or a fun stop on your way to Marlborough.
Kaikoura's environment is truly spectacular – the village is caught between the rugged Seaward Kaikoura Range and the Pacific Ocean. In winter the mountains are covered with snow, adding to the drama of the landscape.

Kaikoura's special talent is marine mammal encounters – whales, fur seals and dolphins live permanently in the coastal waters. Whale watching trips leave the town several times a day and the local seal colony is always entertaining. There are plenty of cafés, restaurants and shops to explore.
Must-do activities in Kaikoura:
Go whale-watching by boat or air at any time of the year.
Swim with or simply watch beautiful dusky dolphins on a dolphin encounter.
Experience seal swimming with the playful New Zealand fur seals in the shallow waters of the beautiful Kaikoura Peninsula.
Take a bird watching tour to view seabirds, albatross, molly-mawks, petrels and many more.
Hike the Kaikoura Peninsula Walkway - three hours return to visit a seal colony, limestone formations and a seabird colony.
Visit Fyffe House, a colonial whaler's cottage.
Meet the local indigenous people and experience Māori culture with Māori Tours Kaikoura.