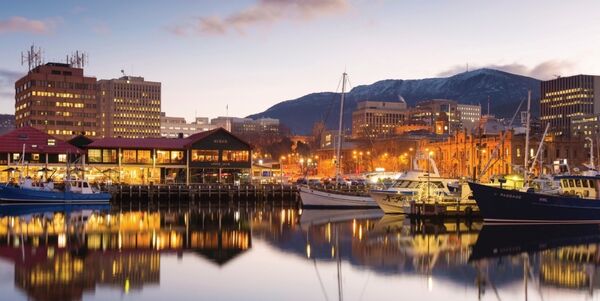 Tasmania's capital lies in the south-east of the state, near the mouth of the Derwent River at the foot of Mount Wellington. The 19th century waterfront warehouses for which the city is famous once bustled with whalers, soldiers, petty bureaucrats and opportunist businessmen. Now they house cafes, restaurants and studios and bustle with shoppers and visitors. Polished glass winks in the windows of settlers' cottages, in nearby Battery Point, and brass doorknobs gleam in the lofty porches of colonial edifices.
Hobart is a city of warm sandstone, bright spinnakers on the water, fish punts at the docks, the slap of halyards on masts, coffee under the striped sun umbrellas of Salamanca where the famous Salamanca Market is held every Saturday. Square-riggers still put out on the River, tacking among the yachts and fishing boats. Parliament House looks out on its lawns, once the market garden for old Hobart Town, and historic Government House sits serenely in its park on the city's northern fringe, where the Governor's cows graze as they always have in their city-centre paddock.
Hobart's busy arts scene takes in art, craft, music and theatre at Salamanca Arts Centre and the surrounding warehouses. You can hang out to the sounds of South American flutes, pub rock, street buskers and string quartets, and theatrical performances both classic and contemporary. In galleries and studios, our artists and craftspeople make bold and beautiful statements in pigments, glass, pottery and fabrics.
The city was settled in 1804 by Lieutenant Governor Collins and grew rapidly as the clearing house for British and Irish convicts. Its place on the Derwent River became the perfect protected deep water harbour, and now every December and January it welcomes weary and exultant contenders from the Sydney to Hobart Yacht Race.