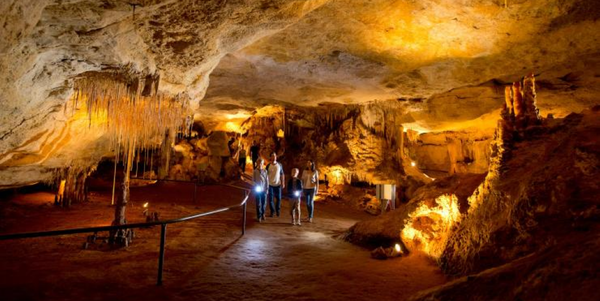 Located in the heart of the Limestone Coast, Naracoorte is home to the famous World Heritage Listed Fossil Site, Bool Lagoon and wetlands, museums, galleries, playgrounds and parks, a unique swimming lake and variety of shops and accommodation properties.
Many caves and sinkholes surround Naracoorte, including the incredible World Heritage Listed Naracoorte Caves Fossil Site. Inscribed in the World Heritage List in 1994 for its rich deposits of fossil mammals, it is the only natural World Heritage Site in South Australia. Guests can experience the fossil site in a range of ways. The Wayamba Fossil Centre recreates the environment and landscape from approximately 200,000 years ago. Inside visitors step back in time and experience what it may have been like and what the Megafauna may have looked like. Fully guided interpretative cave tours allow visitors to view the spectacular cave formations, bats and real fossil sites. The more adventurous can explore the remote areas of the cave system that house many other fossil sites by booking an adventure caving tour.
Visit Bool Lagoon and the surrounding wetlands, home to a vast array of birdlife. Boardwalks and bird hide allow visitors to get up close and see more than 150 species of birds in their natural habitat. The lagoon has one of the largest populations of Brolgas in South Australia, with 47 of the 75 recorded water bird species known to breed in the surrounding wetlands. In years of high water up to 10,000 Ibis breed. Entry to the Lagoon is via a self-registration permit at the gate.
Naracoorte is a rich agricultural centre that produces fine wines, outstanding meat and livestock produce. Local produce can be sampled in many of the local restaurants and cafes. Cellar doors allow you to sample some of the fine Wrattonbully wine produce. The award winning Sheep Back Museum is located in the heritage listed 1870s Simpson Flour Mill. It is also home to the town's Visitor Information Centre and gives a great insight into the region's development and outstanding local production.
Naracoorte proves an ideal base for your next holiday. It is surrounded by three premium wine growing regions and central to the coastal beaches and inland attractions. It is home to many fine bed and breakfasts and self-contained accommodation houses. Supported by a wide range of motels, hotels, caravan parks and campgrounds travellers are sure to have a great stay in the heart of the Limestone Coast.