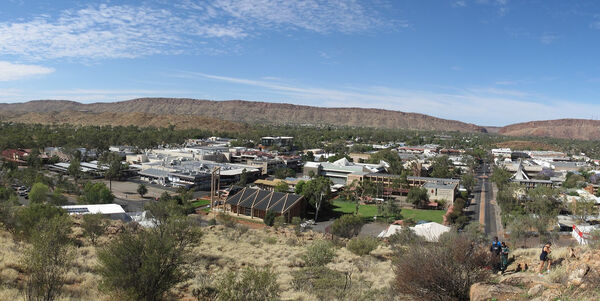 Alice Springs in the Red Centre is the second biggest town in the Northern Territory, after the capital, Darwin. The original Alice Spring, the permanent waterhole that became the key terminal for the Overland Telegraph Station in 1870, is still running, but the city that has grown around the well is now the vibrant hub of Central Australia. The restored buildings of the original repeater are preserved in a historic reserve 3 kilometres north of The Alice centre.
The city is the point from which the intrepid strike south for the Simpson Desert, east to the ghost towns of the MacDonnell Ranges from which the fossickers head, north for the gemfields from which tens of thousands of tourists bus or fly west to Australia's best-known icon, Uluru.
Known for many years by millions of tourists as Ayers Rock until Aborigines reclaimed The Rock and the timeless name, Uluru is the world's largest monolith and stands 546 metres above the plain in the heart of the largest island continent. The road ringing Uluru gives a magnificent, three-dimensional view of the Rock and an appreciation of its awesome size. Alice's desert climate supports horticulture and grape industries worth $50 million a year.

It's a city where visitors not only come to prepare for sorties into the unique bush, but to absorb the singular ambience. The Alice is also a major outlet for Aboriginal art, and contemporary paintings are exhibited in a number of galleries in the city.
Festivals - Alice is Wonderland (March), Country Music Festival (May), Finke Desert Race (June), Camel Cup (July), Henley-on-Todd Regatta (August), Corkwood Festival (November).