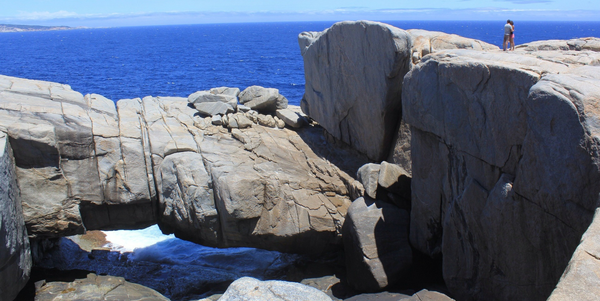 Prepare to be blown away by Albany's dramatic convict history, set against a backdrop of rugged granite coastline, green seas and a wild beauty that tugs at the heartstrings. Situated on the southern coast of Western Australia, Albany is a five-hour drive from Perth. Step back in time and explore convict jails, old taverns, whaling ships and settlers' cottages and grand National Trust homes in beautifully landscaped grounds. Discovered by Captain Vancouver in 1791 and settled in 1826, around 50 colonial buildings have survived and now housing museums, art and craft galleries and restaurants. The best way to take it all in is to follow the Amity Trail, a 30-minute self-guided walk that takes you past historical buildings of note. Tour the old whaling station, jump aboard a whaling boat and don't miss the Brig Amity and a replica of the ship that brought Albany its first settler and convict cargo.
Albany is known for its natural attractions along the rugged coastline of Torndirrup National Park. Get some salty sea air and fantastic photos at the Gap, boasting a dramatic 24-metre ocean drop. Nearby Natural Bridge is a mind-boggling granite formation in the shape of a bridge. Take a drive past quirky granite Dog Rock, Albany's towering wind farm, and walk the Middleton Beach boardwalk trail and a three-kilometre trail with sensational views of King George Sound.
The whaling industry shut up shop in 1978 and whale watching has taken its place. Watch from the shore or take a whale-watching cruise to see magnificent Southern Right and Humpback whales close up. Albany also offers top-notch fishing, sailing and hiking. Divers should make a bee-line for HMAS Swan, a prepared wreck which rests on the ocean floor offshore.