Venturing to far-away, exotic climates is an unforgettable adventure, a dream for many of us. When we think of those distant and dreamy islands, the Caribbean, Bahamas, British Virgin Islands or Fiji spring to mind but Sri Lanka is a hidden gem (a pearl to be precise) in the Indian Ocean.
Planning your holiday in Sri Lanka is an exciting experience of its own - and that's before you have even gone on holiday! With an island full of wonder, colour and excitement where do you start your planning?
The best place to start is to decide the types of things you want to do. Do you want to hit the hotspots and highlights or would you prefer a quieter trip where you can relax on beaches and hike through nature? Why not have both? With a motorhome holiday, you can mix in seeing the best highlights and tourism destinations with some off the beaten track highlights, and you don't have to stay in one place. You can travel from destination to destination and pack in as much as you can. A motorhome holiday like our 'Pearl of the Indian Ocean Tour' is easy to book and plan. Our travel team is here to help, and we have selected an incredible itinerary of stops and highlights.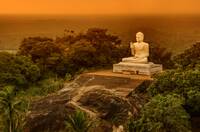 So, how do you make your holiday that little bit extra special? Well, you seek out a few hidden and unique destinations where you can truly experience the culture of this enchanting island.
Brief Garden - A secret garden full of wild beauty
Located in Kirantidiya and only a short detour off the beaten track is Brief Garden, a magnificent masterpiece of remarkable landscaping, trailing plants and intriguing displays. This wild garden was the life's work of Bevis Bawa who started work in the 1920s and continued to cultivate his vision right up until he died in 1992.
Brief Garden is now an exquisite attraction that is lovingly cared for. This isn't a garden full of manicured lawns and perfect symmetry; it is a garden where plants and nature are allowed to thrive with plants cascading over walls to create a stunning secret-garden-style atmosphere that is well worth a quick stop to enjoy.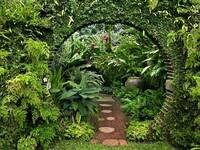 Saint Anthony's Church - a church that will soon be lost in the sands of time
The small village of Manalkadu is in an area that used to be difficult for tourists to travel to. But, the greater freedom of travel around Sri Lanka has uncovered this hidden gem. St Anthony's Church and its cemetery have no known history other than it might have been built in the 17th century either by Dutch or British colonists.
This is an intriguing find. But you'll have to travel quite far off the beaten track down a narrow unnamed road. It might not be the best road to navigate with a motorhome, but if you can find your way there, then you will find a delightful coral-walled, ruined church.
This church would've once been impressive but the shifting sands that have battered this church over the years are now one of its most interesting features!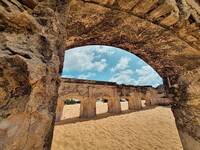 Golden Temple of Dambulla - peaceful, beautiful and a stunning example of age-old architecture
If you are willing to hike your way to this wonder of Sri Lanka, then you are in for a treat. You enter the caves through the mouth of a mythical dragon, colourful and stunning with Buddhist imagery. Behind this is the royal cave temple - a series of five caves connected with human-made outdoor hallways that have been a pilgrimage site for Buddhists for more than 2,000 years.
Carved directly into the rockface, you can wander through the peaceful tunnels and marvel at the vibrant artwork and statues. If you are in the area whilst on holiday, then this is a must-see!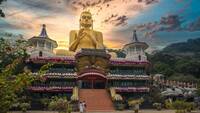 Kayman's Gate Bell Tower- explore Sri Lanka's colonial past with this tower
Sri Lanka has a fascinating colonial past, and you can find odd symbols of this wherever you go. Kayman's Gate Bell Tower, located in Colombo, is now largely neglected but offers some insight into an unforgotten history. The bell tower was once situated just outside an important gateway to Colombo Fort. The fort was built to protect the city's trade and the bell tower used to ring when the gates were closing for the night.
The bell tower itself is thought to have been built in 1554 and has a somewhat murky past as it used to be the place where hangings took place. Now, unless you know it's there, you could easily overlook it as it stands unassuming in a busy part of the city. If you happen to be passing by, then take a moment to stop and appreciate the years of history and changes it represents.
Sigiriya, The Lion Rock - a fortress considered by many to be the eighth wonder of the world
Where does a king go when he wants to protect himself? A high rocky outcrop, of course! Sigiriya is a stunning fortress that juts out from the nearby forests and fields so starkly that you can't help but be impressed by the fearsome rock, known as Lion Rock.
The stories behind this fortress are that King Kashyapa built it to hide from his brother's attempts to attack him, and it would be a difficult fortress to attack! It is protected on all sides by reservoirs and gardens that are considered to be the oldest landscaped gardens in the world. If you get through these extensive gardens, then you will find yourself at the lion staircase which leads right up to the palace built at the top of this gigantic rock.
You can visit and marvel at the ancient architecture, gardens and frescos. This is an attraction that is well worth spending some time exploring, and although there is some walking involved, it should be suitable for all ages and abilities.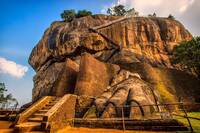 Pettah Floating Market - a great place to try foods and buy souvenirs
In Colombo, you can find the district of Pettah - a place with a murky past and a fantastic example of how investment and improvement in an area can make a huge difference. What was once one of the most dangerous areas of the city, full of infamous characters and even more infamous business deals, is now a peaceful floating market perfect for a quiet walk.
The market is a series of floating walkways with more than 90 street vendors selling their wares. If you are looking to experience some of Sri Lanka's colourful culture firsthand, then this is the ideal place to try some street food and buy some souvenirs.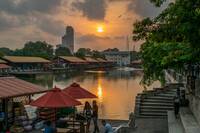 Shark Point Reef - see if you can spot a shark
Pigeon Island National Park is a stunning place to explore. Take a walk through the two islands or relax on the beautiful sandy beach. You could even try a spot of snorkelling and explore one of the best coral reefs in Sri Lanka. If you are lucky, you might spot one of the blacktip reef sharks that make their home there.
This coral reef is suitable for more inexperienced divers, and the sharks here are a non-aggressive species that tolerate human sightseers well. This is one of your few opportunities to see a shark up close!
Temple of the Sacred Tooth Relic - it's not quite as odd as it sounds
Kandy is a town with a name that tourists love, but it also holds a secret tourist destination. This temple offers the opportunity to explore stunning eastern-style architecture and the stories that surround this toothy religious relic.
Legend has it that the Budda's tooth was given to the Sri Lankan monarchy and it was passed down through the generations. It passed through the hands of kings and monks before it was finally housed in a dedicated temple that you can visit.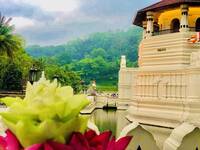 Borella Kanatte General Cemetery - visit the grave of Arthur C. Clarke
If you were looking for the resting place of one Britain's best-loved sci-fi authors you, perhaps, wouldn't think to look anywhere other than Britain. But Arthur C Clarke lays peacefully in Colombo's Borella Kanatte General Cemetery. The author moved to Sri Lanka in 1956 and lived out his life in this wonderful country until his death in 2008.
Borella Kanatte has more than one legend attached to it; it is said to be an area of paranormal activity, especially at a crossroads area where people report sightings of several spirits. Fans of sci-fi can visit and pay their respects to a favoured author but beware you don't run into any other unearthly visitors while you are there!