Louis & Mariette Du Preez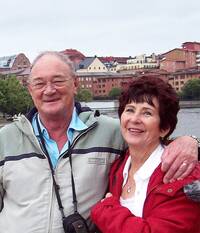 About us: Louis

On my early retirement as Brigadier General, after being closely involved in the health and well-being of President Nelson Mandela, I obtained the National Tour Guide qualification for all 9 South African Provinces. Since 2003 I have been guiding on a full-time basis as a freelance tourist guide for various tour operators. As General Officer Commanding of the South African Medical Service of Gauteng and thereafter of the Province of the Western Cape, it was my responsibility and honour to accompany VIP guests on official visits and on private and exclusive tours of this sub continent.
I personally have visited USA, Chilli, Brazil, Argentina, Mexico, Croatia, Bosnia and Serbia as a member of the International Aviation and Space Medicine Association of SA.
About us: Marriete
Mariette worked at the SA Air Force (Aircraft Fighter Squadron). Afterwards she was appointed as Senior Manager of the Independent Electoral Commission, involved in the free and fair elections in South Africa.
Together we have for the past 16 years, been responsible for accommodation reservations, tours and transport for the International Adoption Agencies of Germany, Belgium, Norway and Sweden. This satisfying and socially rewarding work, in close co-operation with Social workers and the SA Government is our special project in the uplifting of abandoned children of South Africa.
Travelling and exploring Africa, is not only a passion for us, but has been a way of living for many decades.
During our period in the corporate world, we regularly acted as hosts for International VIP groups in this beautiful country or ours.
Our time in this capacity also gave us the opportunity to travel exclusively abroad.
Countries outside Africa that we have visited include:
Finland
Sweden
Germany
Norway
Denmark
France
Belgium
Netherlands
Austria
Switzerland
Italy
We as a 'travelling couple' organised and accompanied groups on successful tours through SA, Namibia, Zambia and Zimbabwe in mobile campers/homes.
As a couple we share the following interests:
History of Southern Africa
Wildlife
Travelling
Travelling with us, you will not only get the opportunity to get to know South Africa and its neighbouring countries, but also have the privilege of being hosted by two people who loves, and are truly passionate about the Southern Continent.
We would love to host you and showcase our passion for Africa with you. Sitting around a campfire at night will be one of the many highlights where you will have the opportunity to share travel stories and teach you how to prepare and cook easy traditional South African dishes on an open fire. These are only a few examples of how we will personalise the trip to make it memorable and the unforgettable trip of a lifetime for you.