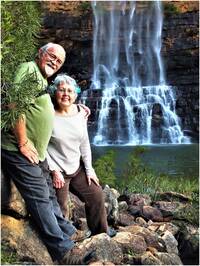 About us: Johan
I am a self-driven person with a high work ethic. I have a passion for tourist guiding and have been touring extensively throughout South Africa and neighbouring countries like Namibia, Botswana and Zimbabwe to name a few. Providing a high quality of service and creating long lasting and memorable experiences for my guests is something I feel extremely strong and passionate about. After retiring from corporate business after many years of service I decided to follow my lifetime dream of becoming a tour guide as it always been a huge passion of mine to travel. My position has provided me with numerous opportunities to show visitors very special places in Africa.
I am a people's person and love being a part of the interaction between travellers and their fellow tourists. I pride myself in my excellent organisational skills which ensure creating a seamless touring experience for the guests I travel with. I am married to Magda who has been my support for many, many years. Magda strongly believes that each challenge in life represents an opportunity, to create lasting solutions. Together we have travelled far and wide and we have been privileged to see many beautiful and exiting places throughout Southern Africa including most National Parks and sights.
About us: Magda
I am friendly, conscientious, reliable, accommodating and helpful. I communicate well with people on all levels and I love to travel and meeting new people. We treasure these breakaways together and grab every opportunity presented to do so.
Hobbies & special interests:
Reading
Photography
Golfing
Travel
Overland touring
San Rock Art and Engravings:
Cederberg-Drakensberg Karoo
Namibian Rock Art sites.
Historic Battlefield Sites:
Have toured the KwaZulu-Natal, Northern Cape and Mpumalanga Battlefields extensively.
Wildlife:
As Tourist guide I have visited most National Parks and many Private Parks in South Africa. I have a broad knowledge on mammals, birds, and most insects, snakes, whales and other coastal life. I also find fauna and Geology very interesting.
Pre-History:
Archeology and Paleontology has fascinated me for most of my life and I have visited most of the major sites in South Africa.
Photography:
South Africa and Namibia has some of the most spectacular sites and people to Photograph. I have a good understanding of the dynamics of photography.
Sport:
Golf, Motorsport and Rugby has generated some memorable tours. I have played on most of the major golf courses in South Africa and Swaziland.
Viticulture and Gastronomy:
I have a good knowledge where to find the best wines and Restaurants in Southern Africa.
Our highlights:
A few incredible travelling moments for us as a couple includes highlights such as visiting the spectacular Troe-Troe Waterfall in the Cedarberg Mountains during a flower and camping tour through the Western and Northern Cape of South Africa. Furthermore, there are only a few things that completes a day out in nature and in our humble view it would be discussing the day's events around a camp fire before retiring to bed to rest with nature on your doorstep.
Experiencing the sunsets on the West Coast of South Africa or in the middle of the Kruger National Park or even with Table Mountain as a backdrop remains a truly magical experience for us. We strive to find that special spot in history and nature that remains in our memories long after the journey is concluded. The African night sky have charmed us so many times that it is impossible to ignore or forget.
We simply love the open spaces that Namibia offers and the natural beauty that is in abundance where you will find a panorama around each bend. The spectacular dunes of the Namib Desert or the open plains of Etosha National Park has crept deep into our souls, we tend to call this our second home. In Namibia the long and open roads tend to lead to spectacular sunsets. In Namibia it is very hard not to stop and admire the setting of the horizon. The blue African sky is spectacular. No drive is complete without a stop in the "middle of nowhere" to soak it all in. Magda and I have many moments savoured over the years and we can't wait to share our experiences and the journey with you on the Roads of the Rainbow Nation or A Tale of Three Countries tour.