David Reyland & Jenny Place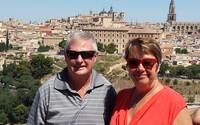 What are your names and which tours will you be leading?
David Reyland & Jenny Place and we are leading the New Zealand Discovery tour in November and the Ultimate New Zealand tour in February 2023.


What is your back ground?
Jenny & I have been living together for 34 years.
I am a fourth generation New Zealander and was a Plumber & Drainlayer for over 40 years - having built up a business including a plumbing shop selling pumps and fittings, employing plumbers and drainlayers, excavator diggers, etc and employing 11 staff? Parts of the business were sold off while the remaining was built up and then sold to prepare for retirement. Over the last few years I was helping out part time with drainage design work.
For the last 25 years I have enjoyed organising and leading many group tours mainly to rugby games in Australia. More recently as a part time tour guide/driver for small group tours travelling around the North Island of New Zealand.
Jenny was born in Somerset in the UK and has lived in New Zealand since she was 15. Jenny worked in a small travel agency which we purchased about 25 years ago (we sold it 15 years ago.) She has also lead a few tours to Australia to watch musical shows. We have both travelled many times out of New Zealand with several trips to the UK & Europe, Asia, all the Pacific Islands and of course Australia (I have travelled to Australia 96 times and counting)


Where do you live?
We live in the beautiful small seaside town of Orewa which is 30 minutes north of Auckland. Our house has stunning views over the Hauraki Gulf. The town is set beside 3km of sandy beach which is great to walk, many cafes, restaurants and bars are just a short walk from the camp ground.


Do you have a motorhome?
Yes we have a lovely 4 berth motorhome - built in Auckland on a LDV cab and chassis. It's called a "Kea Breeze" - Kea is a brand of vans made here. We use it as a 2 berth with the made up bed lowering down over the lounge in the back. We like it because it's only 6.3m long - so it makes parking easier.


How many tours have you done?
We started doing tours for the Caravan Club in 2014 when "Off the Beat" from the UK was organising the New Zealand tours for the Club. We have lead 4 now for the Club and have lead 3 more similar tours with friends over the last couple of years. I also did 6 driver/guide tours for Moa Trek around the north island.


What does a typical day on tour look like for the hosts?
Up at 6:30 for a shower and a bit of breakfast, so we're ready for any questions the campers would like answered about the up coming days. Go over the maps of optional routes to the next camp. Attend to any small van problems that I can fix or arrange for the van to call into a garage. Usually we are the last to leave the camp making sure everyone gets away okay. Jenny talks to the guests about any problems or ideas she can give them. We phone the next camp or attraction ahead to make sure they are expecting us.


What can guests expect on a typical day?
They can get up when they like but if we are going to a different camp that day they should ideally be on the road by 10am. We have members heading out from 7am right up to 10am. Just about every day can be as busy or as slow as you like. We are sure no matter what time you leave camp your day with be full of wows. Usually about 6pm each night we talk about ideas of places and attractions to call into and optional roads to travel for the next day. You will wish each day was longer as there is so much to see. Most of our attraction are free or a gold coin donation is expected. Some members cook all their meals in their van and some go to a restaurant once or twice a week. The best option is to join us for a BBQ as most camps have a very good BBQ area (assuming it's not raining!)


What are the benefit of going on a escorted tour.
Obviously the main reason is having experienced local guides - unlike other motorhome tours from the UK who bring their own tour leader. Our tours have two guides on each tour which helps greatly. We know the hidden treasures and the back roads. We can sort problems out quickly and help you book extra tours and attractions - we can arrange a small group wine & sites tour Napier/Hasting - sites of Rotorua - Hobbiton - boat trips at Whitianga to see Cathedral Cove and Bay of Island to see the hole in the rock and much more. We mix with the group to bring you all together and we are sure that you will be friends for a long time. Previous groups have annual get togethers at different camps in the UK (the 2014 tour have already had 3 and Jenny & I attended one of them in 2015). We are very passionate about our country and love showing visitors around it.


What is your favourite place on the North Island?
A hard question - there are lots - we enjoy Orewa as it is getting vibrant with its many cafes, restaurants and bars. Plus one of the best beaches in New Zealand to walk.


What is your favourite place on the South Island?
Once again, that's a hard question - probably Kaiteriteri for it's beautiful coast line, sandy beach. A trip up the coast to Te Awaroa on the Sea Shuttle is beautiful or a kayak to the Split Apple from the beach in front of the camp. The Haast Pass and West Coast are a close second along with the Aoraki/Mt Cook area.


What optional excursions would you recommend?
Where do we start? These are chargeable excursions, but a flight over Aoraki/Mt Cook from Glentanner or Franz Joseph is absolutely stunning. A trip on the Taieri Gorge train from Dunedin's famous Railway station - Glow worms at Te Anau - Shotover jet ride Queenstown - AJ Hackett bungy jump - Warbirds Over Wanaka museum - Sea Shuttle to Te Awaroa Kaiteriteri - Omaka "Knights of the Sky" war planes Blenhiem - Wine & Sites Napier/Hastings - Art Deco walk Napier - Craters of the Moon Taupo - Wai-O-Tapu, Lady Knox geyser, Agrodome sheep show, Gondolas Rotorua - Cathedral Cove by boat Whitianga - Hole in the Rock Russell just to name a few. As you can see there is so much to choose from!


Which are the best months to tour New Zealand?
New Zealand is good all year round, depending on whether you are a skier or a sun lover. We start warming up mid to late October and start cooling down early May. In saying that the seasons seem to change a little. The November tour will see spring flowers and still snow on the mountains, cool mornings but lovely days. February & March tours are warmer and a littler busier and the April tour has lovely days and is starting to get a little cooler at night but the Autumn colours are beautiful.


What size motorhome would you recommend & why?
A 4 berth is the way to go for sure. The 2 berth doesn't give you much room to even store your suitcases. Most 4 berths are a similar length as the 2 berth.
Plus if it's raining it's hard to get 4 or 6 people in your van for a drink into a 2 berth.


What tips would you give for motorhoming in New Zealand?
You will find it easy to drive your motorhome around in New Zealand. In the South Island you may think where are all the people! You actually won't be driving in the big cities (unless you choose to) - Wellington, once you get off the ferry you just drive around the water front to our camp (get the bus back to the city) and in Auckland you will travel on the motorway through it both ways.
Please note some of our New Zealand drivers are impatient - let them pass when you can and please don't travel in groups - leave a gap of at least 200 metres to the next van.
Most of all while here in New Zealand, just chill out and don't worry about the small things, let us sort those out - you just have fun.


What should guests bring with them to New Zealand?
The first thing is your UK drivers licenses - you need it to get your motorhome.
The morning you pick up your motorhome we take you to a supermarket to stock up your van. Here you can get your sun block and inspect repellant. Bring a hat and a warm jacket. You will not need any formal dress even in the hotels - just smart casual for our dinners out. Bring an open mind and be prepared to see some wonderful sights New Zealand has to offer.